Name : Tobais Kado
Alliance : Jedi
Class: Unaligned Jedi
Rank: Guardian
___________________________________
Skills:
Melee skill:
Strength: 6+2=8
Agility: 3-1=2
Defense: 3+2=5
Force:
Light side powers: 4
Neutral powers: 4
Dark side powers: 4
Engineer skills
Repair: 1
Land Piloting: 1
Space Piloting: 2
Weapons used: +2 to strength -1 to agility +2 to defense
Customized White/Silver Buster Saber (or Great Saber): Is a weapon similar to a lightsaber. However, special focusing crystals and power systems enabled this rare lightsaber to project a blade up to three meters in length and a one and a half. These large lightsabers are generally used only by beings of immense stature. This customized Buster saber is made from scrap parts including a minor anti-gravity device on the hilt to make it lighter and faster, but the only problem with it is that it doesn't have the weight and momentum to stop major attacks as well as a standard Buster Saber.
Age : 21
Race : Inunui- this: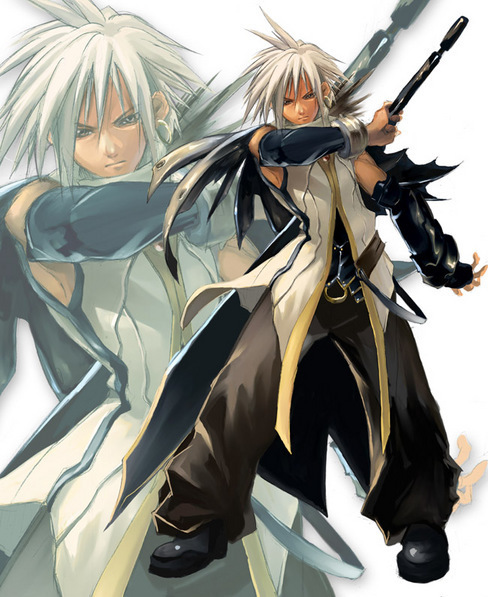 (also what he looks like)
Planet of Birth : Xaridon
Personality : Subject to change... litterally
Allies :
Foes :
History :
The planet of Xaridon lies relatively close to the center of the galaxy, where the force is believed to "gather." They strongly believe that the force shapes ones actions and personallity and force sensitive users are believed to be "controlled" by the force.
This is caused by an evolutionary differentiation. This differention makes Xaridans harbor Midichlorians. This means all of the Midichlorians in the brain, synapses and nervous system TRY to create a balance in force power and TRY to take control of the host. Oftentimes the Midiclorians win over control, The Leaders of Xaridon is those who managed to take free will control over the fight for control. Tobais is not of of those who took free will control. The Midiclorians have won in his case.
The planet, Xaridon, shows a macro level Force aura around it. As the planet is controlled by The Force, it shows what side it is on. Light or Dark. It will never be in between. From space it shows a clear aura of what side it is on:
Light side Xaridon: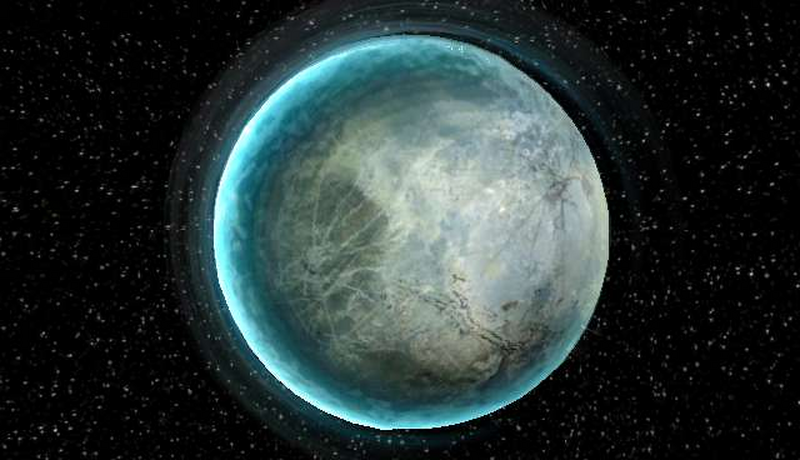 Dark Side Xaridon:
This belief shows prominently throughout Xaridon as it has the highest density force sensitive people within any other parsec in the galaxy. This belief also shows within Tobais where he has multiple personalities and a strong sense of judgement where he claims "The Force guides my hand."
He was not trained in the ways of a Jedi, Sith or of any other profession. He just "knew" what he was doing as he built his white Buster saber from scrap parts including a minor anti-gravity device on the handle to make it lighter and faster, but the only problem he has with it is that he doesn't have the weight and momentum to stop major attacks as well as a standard Buster Saber.
Following his leave of Xaridon on a small cargo ship, he was determined to balance the power of force users no matter what the cost.
Last edited by Tobais Kado on Fri Nov 12, 2010 11:21 pm; edited 6 times in total (Reason for editing : updated history)
updated an alliance and history...
Updated history further....

Expplained WHY the Force is controlling more than influencing...
Problem. Midichlorians are present in ones cells, akin to mitochondria(hence the naming similarities). Saying they are parasitic would be like telling me my mitochondria is parasitic and I'm being controlled by my sugar levels.
I said it was an evolutionary differentiation for a reason. I said that to avoid having to explain EXACTLY how it works. and basically says, "It happens don't worry about it."
Well the whole problem everyone had with your character in the first place was that he was controlled by the Force. The thing is that the Force doesn't control anything, at all. I was fine with you not controlling your own actions because Tobais believed his race's philosophy to the extreme. But what you're doing with this character now doesn't make a damn bit of sense.
Im doing what Chris said. He said that this would work... Ill stop Rping until I figure out what do... He said if the the evolutionary differiention makes midichlorian act more as a leech than a symbyote. it would work.

In your terms, you see what i am trying to do: Force puppetry. How can I Biologically get this to work.
Something along the lines of the Felucians would work. Your mind and body are very susceptable to the influence of those around you, making you follow the dark side, light side, or somewhere in between depending on who you're near.
Changeed Idea by rick...

nstead of being 100% controlled by the force
[21:03:50] VivaLaCult☼ : Your race harbors midichlorians
[21:04:05] VivaLaCult☼ : In their brain, and in the synapses
[21:04:10] VivaLaCult☼ : That control your body
[21:04:24] VivaLaCult☼ : So, the midichlorians in you
[21:04:44] VivaLaCult☼ : TRY and make you create a balance
[21:04:53] VivaLaCult☼ : This way, the control you have over your character
[21:04:58] VivaLaCult☼ : Is up to you
[21:05:07] VivaLaCult☼ : If you want to be really force reliant
[21:05:13] VivaLaCult☼ : You are controlled more
[21:05:41] VivaLaCult☼ : And since Thanos twisted your guys force......for now
[21:05:51] Tobais Kado : mike was thinking of using a force sever to sever that
[21:05:55] VivaLaCult☼ : Your midicholrians have a different idea
[21:06:05] VivaLaCult☼ : That would work
[21:06:11] VivaLaCult☼ : This is an idea
[21:06:15] VivaLaCult☼ : That would be approved
[21:06:17] Tobais Kado : (ignore last comment keep going)
[21:06:21] VivaLaCult☼ : Because it makes sense
[21:06:23] Tobais Kado : kk

---
Permissions in this forum:
You
cannot
reply to topics in this forum