| Title |
Grand Master Kenrick
| Full Name |
Kenrick Ægean
| Alliance |
Jedi Rebellion
| Class |
Jedi Master
| Skills |
Strength: 50
Agility: 50
Toughness: 50
Intelligence: 100
Force Potential: 70
Melee Skill: 65
Ranged Skill: 65

| Special Abilities |
Kenrick can read the minds of those around him with little effort, though he refuses to use the ability except when allowed by those present or when he's trying to pinpoint on a specific individual within a large crowd(up to a city). While doing this on such a large scale, Kenrick must devote his attention to the task or the results are unclear at best.
| Weapon(s) wielded |
9 lightsabers of varying colors. His main weapon is a standard blue lightsaber
| Age |
26
| Race |
Human
| Starship |
Illuminating Truth, Starfighter
| Planet of Birth |
A little known Otter Rim world known as Tultari
| Looks |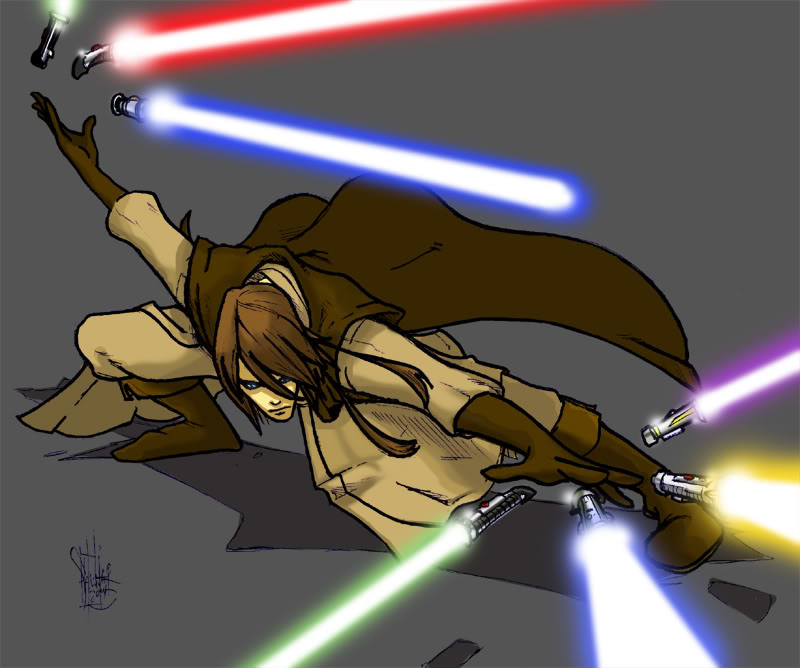 | Personality |
An exceedingly polite man when in formal conduct. When in less formal situation Kenrick is known to still be polite but also playful and sarcastic. He is charming and well mannered, always keeping a cool head. He has an overwhelming sense of justice that pushes him towards defeating the Sith. He's very aware that Jedi need not to be completely devoid of emotion and that strong Jedi can allow themselves to love and not fall. However, he keeps a close watch on all of his allies, making sure none of them begin to venture towards the wrong sides of emotion.
| Allies |
Lara Ters, Ralek Konnar, Seyan Opellis
Tenative allies with Mide-Okk Naror and Seraya Danzes
| Foes |
Darth Paven, Darth Roras
| History |
Last edited by Mide-Okk Naror on Wed Oct 05, 2011 2:24 pm; edited 2 times in total
Admin





Posts

: 125


Join date

: 2008-11-05


Age

: 29


Location

: Hayesville, NC




---
Permissions in this forum:
You
cannot
reply to topics in this forum