Name: Thaligarr'Sytis(most just call him Thaligarr), Darth Mortiis
Alliance: Sith
Class: Sith Assassin
Rank: Sith Lord
Skills
Melee skill
Strength: 3-1=2
Agility: 5+3=8
Defense: 4+1=5
Force
Light side powers: 0
Neutral powers: 3
Dark side powers: 9
Engineer skills
Repair: 4
Piloting (space ships): 4
Piloting (Land/sea vehicles): 4
Weapons used: Dual Shoto Lightsaber
Age: 33
Race: Felucian
Planet of Birth: Felucia
Looks: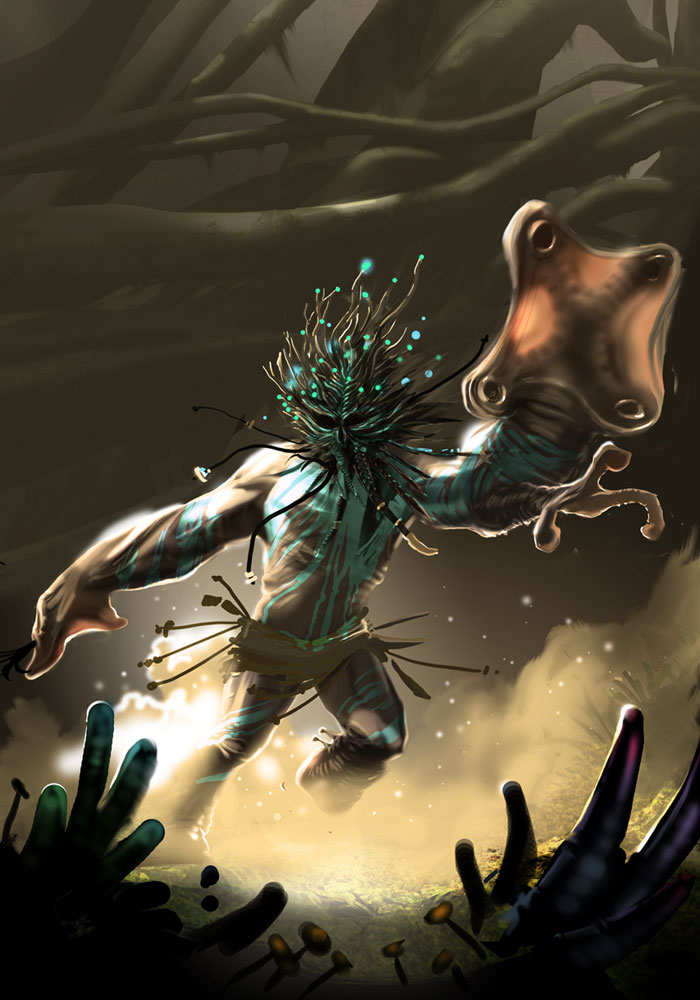 Personality: As a Felucian, Thaligarr is prone to dramatic mood swings, depending on how the Force affects him directly. He's normally very cold and blood hungry since most of the people he is near have the dark side flowing strongly through them. On planets like Korriban, Mortiis has been witnessed going on killing sprees throughout the dormitories for no explained reason.
Abilities: Thaligarr uses his natural Felucian abilities to get his job done splendidly. He can blend in with almost any environment, becoming invisible for all intents and purposes. He also has two sets of arms that seperate from each other at the elbow, one large suction-cup like set on top and a humanoid set below those that usually stay hidden outside of battle.
Allies: Sith, as long as he keeps off of Korriban.
Foes: Any one who has been marked for death by the Empire.
History: Thaligarr fell to the dark side long before he was even aware of a Sith presence. As such he was destined to be fed to the sarlacc of Felucia. Unbeknownst to his captors, Thaligarr was far more powerful than he let on. During his transport to the sarlacc pit, Thaligarr broke free and annihilated the entire transportation squad. Escaping into the wilderness and stowing away on a Gossam starship. After the ship touched down on a different world he boarded another, and repeated the process until he came aboard a Sith Starfighter. In the presence of such a corrupt force user, Thaligarr quickly lost his grip and killed most of the crew, including the Sith commanding the ship. Taking up the Force user's weapons he set off with ship's navicharts eventually coming into contact with Darth Roras. Being very impressed with the Felucian, the Sith Inquisitor quickly began teaching Thaligarr how to use the Force, eventually turning his natural gifts into deadly weapons.
Admin





Posts

: 125


Join date

: 2008-11-05


Age

: 29


Location

: Hayesville, NC




---
Permissions in this forum:
You
cannot
reply to topics in this forum